I've stumbled upon a realization. I've known for several years now that providing students with an authentic audience allows students to feel validated, motivated, empowered and courageous. What I've learned this school year...is that teacher's benefit in this same way when given the chance to show their work. Here's my story: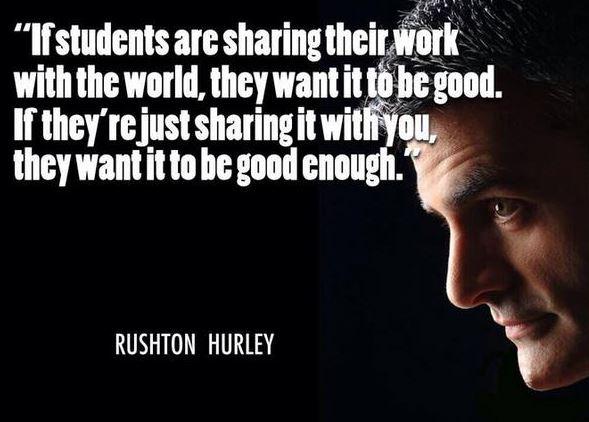 In November, I had the opportunity, thanks to Mrs. Robin Keating, principal of Big Walnut Elementary to share with a few of her staff members the process of Design Thinking and how it can be used in the classroom. While I had co-presented on this exact topic for our own K-1 building, I was nervous and unsure if a group of total strangers would be able to learn anything from me sharing my ideas. After all...I'm just another teacher. I think in the back of my mind I thought that maybe my own district's staff only enjoyed my previous presentation because they were colleagues I had worked with for a few years. This was my chance and I took so much time carefully thinking through each detail. When the big day came, I had a blast! It felt like the teachers had a great time too! But what brought a great moment to an empowering moment was a few weeks later when Mrs. Keating showed me some pictures of her first-grade teachers doing a Design Challenge in their classroom. She talked about how proud she was of this group and how much fun they had...and most importantly, how the students responded to this style of learning. So maybe I did have a few ideas that would benefit some other teachers...
That would have been special enough, but luckily for me, it didn't stop there. About a month or so later a group of Administrators and teachers from Big Walnut came to visit The Light Bulb Labs. They were really interested in seeing a Maker Space in person and Mrs. Keating had suggested they check out what we were doing. There it was...another chance to show an authentic audience the work our students and Mrs. Frederick (my fearless, amazing co-teacher) and I had been plugging away at all year. We invited them to come on a Wednesday so they could see our unique schedule and talk with us about how we use our Maker's Space. That visit turned into so much more. The conversations and reflections were so powerful, I'm not sure I could even capture it in words. This group didn't shy away from asking difficult questions, and we didn't shy away from the difficult answers. When they left, Mrs. Frederick and I looked at each other with tears in our eyes. All of our hard work, our risk taking to try something new...had just been validated by a group of peers. Strangers told us our students were amazing (which we already knew), that the work we were doing mattered and that the risk of marching off the beaten path was worth it. You'll never believe what happened next...those first-grade rock stars I mentioned earlier, they came to visit us too..and they brough 4th grade friends! They wanted to see in action all the things we talked about. Mrs. Frederick and I floated on cloud nine during those visits and it lit a fire under us. These authentic audiences taught us that we did have something to share with the world. So, we prepared to share our Wednesday schedule with a larger audience. See, that's the power of authentic audiences.You're so proud of the work you're doing, you want to shout it from the rooftops!
That's when we had the opportunity to present at the Ohio Educational Technology Conference in Columbus, Ohio. Mrs. Frederick had never been to this conference before and I was excited to share an event that I look forward to every year. Not only were we going to be able to go and learn together, we were going to tell our story. I told her, "Don't worry, we have an 8:00 a.m. session, no one will come". I played it down for my nervous colleague who was about to present at a major conference for the first time. Little did we know or expect...people showed up. More people than we expected. And can you believe it...they listened to us! They gave us feedback and ideas at the end of our presentation. We got emails from colleagues from all over the state asking us to share resources or compliment us on the work we were doing. We told our audience that day that we welcome visitors to our room because that is the best professional development. We know that, because about 5 years ago, Mrs. Frederick and I went to visit another school and we couldn't get over how much we took in just visiting another school and talking with others about the work they were doing.
That could have been where this story ended but we have been fortunate enough to have had many groups join us this year. Each group was special and gave us so much more than they will ever know. These visits gave our students the opportunity to share their knowledge. They had the chance to inspire adults and remind educators what they got into teaching for. Not bad for an 8-year-old. If you could see their faces when they would learn that a new group of teachers was coming to hear about the work they were doing it would bring a tear to your eye. If you haven't had the chance to see what pride looks like on an 8-year-old...ask one of our Light Bulbs to talk about Wednesdays. It's pretty incredible. But beyond that, something else happened. Two third grade teachers became empowered to share the work they are doing because our authentic audience taught us...that having the chance to share something you are proud of matters.
So now...a few thank you's are in order! Without Mrs. Keating believing in the work we were doing, I would not have connected with Big Walnut. What a wonderful connection! What an amazing group of educators! What a gift they have been to us this year!
I also have to thank Mr. Marc Alter, Director of 21st Century Learning in Grandview Heights. Marc attended our OETC presentation and has been connecting us with some pretty inspiring teachers in his district. Not only that, but he's encouraged us to continue telling our story to others.
And finally, a huge thank you to my home school district, New Albany-Plain Local. I've written about how much I love NA in another blog post. Not a day passes that I don't recognize how lucky I am to work there. Without my principal, Mrs. Jen Denny supporting the work Mrs. Frederick and I have tackled, none of this would have happened.
So...here's my lesson and reflection. Learning is not just for students. School is a place of continuous learning for all those that enter the doors. Who have you invited into your space? What authentic audience will be your catalyst?